Location of Barot - Unexplored destination in Himachal Pradesh - best weekend destination
Welcome to Organic Holidays India. Himachal/Rajasthan/Kashmir Tour Packages @ INR 1000 per person/day
Call now for bookings and more details - +91 7018319485, +91 85888 49825
Are you looking for a peaceful holiday in Himachal? Do you want to know the places in Himachal where you will find beautiful and exquisite landscapes and less crowd? Are you looking for an unexplored place in Himachal where you can enjoy the nature? The answer to your query is BAROT. Barot is one of the less explored but very beautiful destinations in Himachal Pradesh. You can spend your vacation amidst nature in a very peaceful environment in Barot. Distance of Barot is about 60 Kms from Palampur, 40 Kms from Joginder Nagar and about 520 Kms from Delhi. Situated amidst huge and enchanting lush green Deodars Barot is an enthralling place to visit.
Sightseeing and Adventure at Barot Himachal
The adventure loving people can enjoy the Haulage Trolley ride from Joginder Nagar. The Haulage Trolley ride from Joginder Nagar to Headgear again is a wonderful experience. There are many adventurous activities which you can do in Barot Himachal. There are two beautiful reservoirs of the Power project in Barot. Enjoy fishing here. The trout fish of Barot is amazing. Enjoy angling here in the river Uhl in Barot. You can also visit the Nargu Wild Life Sanctuary in Barot Himachal, across river Uhl. In Nargu Wild life sanctuary you will find home to the ghoral, Himalayan black bear, leopard, Monal, kite, monkey, kasturi deer, wild cat, nilgai, kakkar and a variety of pheasants. You can also take a trek route from Barot to Kullu.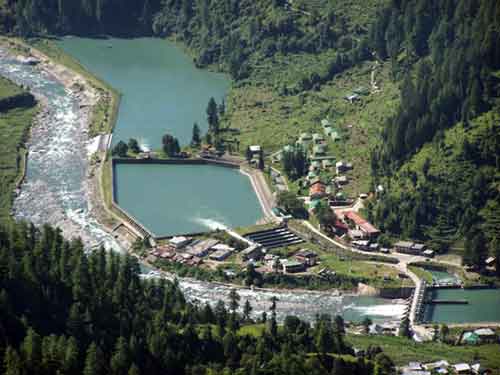 Danasur Lake is situated at a height of about 4300 meters which can be reached via trekking route from Barot.
Though there are no hotels in Barot but you will find decent stay homes there which are very neat and clean and economical. Hotels are available at Joginder Nagar. HPTDC Hotel Uhlrun by Himachal tourism department is a decent and economical hotel for comfortable stay near Barot.
How to reach Barot Himachal
To reach Barot you need to reach Joginder Nagar. Number of buses run from Delhi to Joginder Nagar. Buses from Jalandhar, Amritsar, Ludhiana and other parts of Punjab are also frequently available to Joginder Nagar. Buses from Chandigar and Jammu are also available on Joginder Nagar route.
From Delhi you need to reach Chandigarh. From Chandigarh take Ropar route and then take Bilaspur route from Ropar to reach Joginder Nagar via Mandi.
Delhi-Ambala-Chandigarh-Bilaspur-Mandi-Joginder Nagar
From Jalandhar – Pathankot-Palampur-Baijnath-Joginder Nagar
Trains are available from all parts of the country via Chakki Bank (Pathankot). From Pathankot toy trains are available till Joginder Nagar
Kullu Airport and Gaggal Airports are the nearest airports from Barot.